Cauliflower is recommendable, as it is a vegetable with a low GI (15).
South Beach Diet cauliflower recipe suggestions:
Roasted Cauliflower
1 head cauliflower
olive oil
salt and pepper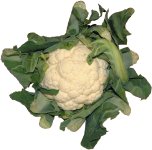 Clean and core the head of cauliflower. Cut the florets into 1/4 slices. Put in a bowl and toss with olive oil, salt and pepper. Spread on a cookie sheet or roasting pan. Place in a very hot oven and roast for 15-20 min or until the cauliflower is brown to dark brown. You can stir florets around half way through to get even browning. Cauliflower should be crispy on the outside and creamy on the inside when done.
Cauliflower Soup — phase 2
1 head of cauliflower, broken into small pieces
1 lb bag baby carrots, cut into bite size pieces
1/2 stalk celery, cut into bite size pieces
3 cups fat-free, low-salt chicken broth
2 cups water
1 teaspoon salt
1/4 teaspoon black pepper
In large soup pan, heat chicken broth to slow boil; add cauliflower, carrots, celery, and spices. Cover and cook till vegetables are soft. If large pieces of cauliflower remain, use a flat edged spatula to break up cauliflower during the cooking phase. Simmer over medium heat until vegetables are thoroughly cooked. Keeps well in refrigerator for one week.
Cauliflower Salad — phase 1
1 medium head cauliflower, broken into small florets
1/2 cup mayonnaise (light or fat-free okay, but watch the sugar count)
2 tablespoons lemon juice
2 packets Splenda
1/2 teaspoon dried mustard (prepared Dijon works too)
3 green onions, chopped
1 very finely chopped jalapeno pepper
salt and pepper to taste
Cook cauliflower in large pot of boiling salted water for 10 minutes, or until tender. Drain and rinse under cold water; pat dry.
In large bowl, mix together mayo, lemon juice, Splenda, and mustard. Add cauliflower, green onions and jalapeno. Mix well to evenly coat. Add salt and pepper to taste. Chill at least 30 minutes (overnight is better).