Soups are highly recommended in South Beach Diet as they are calorie-low and quite filling, they can be used as a "trick" to prevent overeating.
South Beach diet soup recipe suggestions
Pinto Bean Soup Recipe — Phase 2
These quantities are for 7 servings.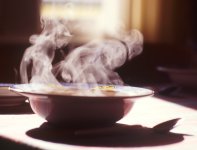 1 lb. dried pinto beans
8 cups water
1 medium onion, diced
1 small green bell pepper, diced
1 garlic clove, minced
2 tablespoons Worcestershire sauce
1 tablespoon chili powder
¾ teaspoon salt
½ teaspoon dry mustard
¼ teaspoon pepper
1 can Rotel
Place beans in a large Dutch oven; add water to two inches above beans. Bring to a boil. Boil one minute; cover, remove from heat, and let stand one hour. Drain.
Bring beans and 8 cups water to a boil. Cover, reduce heat, and simmer one hour or until beans are tender. Add onion, pepper, garlic, Worcestershire sauce, chili powder, salt, dry mustard, and pepper; simmer 30 minutes. Add tomatoes; simmer 30 minutes more.
Chickpea Soup: Phase 1, Phase 2 and Phase 3
1½ cups dry chickpeas
1 cup onion, chopped
1 clove garlic, minced
1 tablespoon Safflower oil (or any allowed oil)
6 cups water (add more if needed during cooking)
2 tablespoons Soy sauce (or less)
¼ cup chopped parsley
¼ cup chopped peanuts (optional)
Combine chickpeas and enough water to cover; refrigerate overnight. Drain. Cook onion and garlic in oil for 2 minutes, add chickpeas, soy sauce and 6 cups water. Bring to the boil, reduce heat, cover and simmer for about 3 hours. Pour into blender and process until smooth. Reheat and serve with parsley and peanuts.
Spicy Lentil Soup Recipe — Phase 1, Phase 2 and Phase 3
1 tablespoon Oil
1 cup chopped onion
¾ cup diced green pepper
¾ cup diced red bell pepper
4 cloves, finely chopped
6 cups water
1 can diced tomatoes
2 cups dried red or green lentils, rinsed and drained
2 tablespoon red wine vinegar
1½ teaspoon cumin
1½ teaspoon salt
1 teaspoon paprika
¼ teaspoon red pepper flakes
Heat oil in a dutch oven over medium heat. Add onions, bell peppers and garlic; cook for 2 minutes. Add remaining ingredients (water through red pepper flakes) Bring to a boil. Reduce heat and simmer, partially covered, stirring occasionally, until lentils are tender, about 25 minutes!