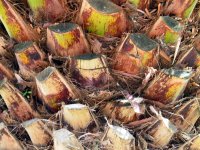 Hearts of palm (come from palmettos, small palm trees that grow in Florida and South America) are very low in cholesterol and are rich in fiber content. They are low in calories and very low in fat, are a good source of Protein, Riboflavin, Potassium, Vitamin C, Iron, Magnesium, Phosphorum, Zinc, Copper and Manganese. The only shortcoming is that they are very high in sodium.
Phase 1 South Beach Diet recipes suggestions
Hearts of Palm Salad
These quantities are for 8 servings.
2-3 heads of romaine lettuce
14 oz can Hearts of Palm
3 tablespoons chopped pimento
1 avocado, diced
1 teaspoon salt
¼ tsp. pepper
Combine bite-sized pieces of lettuce, avocado, pimento and hearts of Palm (drained and sliced ¼ inch thick) in a large salad bowl and enjoy this exotic South Beach diet palm recipe.
Dressing
¼ c. vinegar
3/4 c. salad or olive oil
salt and pepper
Shake well. Pour dressing over the salad, just enough to coat the lettuce well.
Avocado, Tomato, Hearts of Palm Salad — Phase 1
These quantities are for 2 servings.
1 ripe, slightly firm avocado, cubed
1 medium tomato, cubed (or use equivalent amount of cherry tomatoes, halved)
1 small jar (4.5 oz) marinated heart of palm (cut in bite-size pieces)
salt and coarsely ground pepper
1 tablespoon Newman's Own Light Balsamic dressing
Toss all ingredients and serve chilled or at room temperature. Sprinkle with fresh, shredded parmesan cheese.
Note: You could substitute marinated artichoke hearts for the hearts of palm. Or use some of each.
Hearts Palm Recipe Salad — Phase 1
2 or 3 canned Hearts of Palm sticks, cut into bite-sized pieces
white onion, sliced
tomatoes
black olives
salt and pepper
Serve over romaine lettuce, if desired.
Dressings:
Sunset Italian Dressing — Phase 1
This salad dressing on South Beach diet has no fat and almost no calories — plus a lovely, sunset-rose color. The nonfat mayonnaise and buttermilk provide a creamy base. Makes about one cup.
½ cup nonfat buttermilk
¼ cup nonfat or low fat mayonnaise
¼ cup tomato juice
1 tablespoon grated onion
¼ teaspoon dried oregano
¼ teaspoon dried basil
¼ teaspoon pepper
¼ teaspoon paprika
1 clove garlic, crushed, or 1/8 teaspoon garlic powder
Combine ingredients in a small bowl and whisk together. Cover and chill.