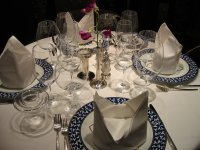 Many restaurants list in a special section of the menu low-fat or low-carb dishes or some other healthy choice or have on every menu item the nutritional components: protein, fat, fibre, carbs, calories. Some even highlight other nutritional qualities such as a high amount of vitamin C, beta-carotene or omega-3 fatty acids.
It is rather difficult to eat out during the south beach diet phase 1, but it's not impossible. You can chose plain grilled chicken breast and a leafy salad with olive oil dressing. The hardest part would be to resist the temptation to eat breads or other banned foods.
Dining out during the south beach diet phase 2 and south beach diet phase 3 is easier, more foods are allowed and alcohol too.
Rice and potatoes are off limits at any restaurant as well as chips and fast food. Ask for extra vegetables instead and stay with fish, chicken, shellfish or lean beef dishes.
South Beach diet restaurant tips
eat a protein snack about 15 minutes before you're due to arrive at the restaurant in order to lower your feeling of hunger.
drink some soup for a starter (a bean soup would be a good choice); this will give the brain the time to process the information of fullness.
ask the restaurant staff for simple adjustments such as leaving aside sauces and dressings (the amount of salad dressing can be better controlled if brought separately).
choose the restaurant that is more likely to have in the menu meals that best fit your diet.
order right away so you have less time to be tempted by rich appetizers; ask the waiter not to bring you any.
a good idea would be to call ahead and ask if there are menus suitable for your requests.
ask what a menu contains if you don't know exactly and feel free to send it back if it's not just right.
if you order a sandwich, remove the bread (or ask to be removed), or choose sandwiches with whole grain bread and eat only one slice and double up on the filling.
choose grilled, steamed, broiled, stir-fried, poached meats rather than fried. Sometimes meats baked in sauce, or sauted (if sauted ask to be in olive oil) might be a good choice but they can be also high in fat or carbs.
always order water with your meal- even if you have something else to drink.
if the portions are large, share with a friend or ask for a "doggie bag".
often, there are some foods like low fat milk, fresh fruit, low fat salad dressing that do not appear on the menu but can be ordered.
if you just cannot skip dessert try to select one that is as close to acceptable as possible (e.g. poached pears, plain ice-cream, fruit tarts etc).
drink alcohol in moderation: it has quite a high calorie-content plus too much of it tends to make us less cautious.