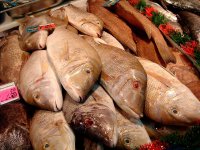 Seafood contains Omega-3 fatty acids, which lower the risk of heart disease by preventing blood clot formation in the arteries. Recent studies show that omega-3 fatty acids (particularly found in coldwater fish) help prevent diabetes, depression, arthritis, asthma, and colitis. All 3 phases of the diet allow fish in abundance.
South Beach Diet fish recipe suggestions
Low Fat Steamed Haddock — Phase 3
400g haddock (or the fish of your choice) 200g cous cous
150g sweetcorn (tinned, drained)
150g capsicum (de-seeded, sliced)
100g mushrooms (sliced)
Dressing
1 teaspoon Chinese Five Spice Powder
2 teaspoons freshly squeezed lemon juice
2 tablespoons fresh coriander (finely chopped)
The dressing is made by mixing the spice powder, lemon juice and coriander in a small bowl. Cook the cous cous as per the instructions on the packet. When cooked, transfer the cous cous to a mixing bowl and stir in the pepper and sweetcorn.
Meanwhile, grill the fish until it is cooked. (Use medium heat so the fish does not dry out).
Drizzle the dressing over the freshly made cous cous salad, and serve on a plate with the grilled fish. Add a little salt and pepper to taste.
Baked Fish Recipe
Dressing
¼ cup tub margarine
3 tablespoons mayonnaise
½ cup of Parmesan cheese
garlic
basil
Dry fish fillets with paper and squeeze lemon juice over fish and set aside for 10 minutes. Mix together the dressing ingredients in a bowl (stir in garlic and basil to taste). Place fish under broiler for 6-8 minutes. Then take out of oven and spread cheese mixture over the fish. Put back in oven and let broil until fish turns medium brown.
Tuna Salad With Lowfat Cilantro Mayonnaise
These quantities are for 1-2 servings.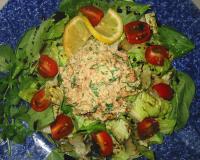 1 package (3 ounces) of fresh packed albacore tuna or light chunk tuna (water packed not oil packed)
1 clove garlic, crushed
¼ cup chopped fresh cilantro
1½ teaspoons reduced-fat mayonnaise or light mayonnaise
1 teaspoon spicy brown mustard
1 tablespoon fresh lemon juice
1-2 dash Frank's red hot sauce
¼ teaspoon creole seasoning (optional) salt & fresh ground pepper
1 cup mixed salad green
6 cherry tomatoes, halved
1-2 teaspoon balsamic vinegar
Place salad greens in bowl and top with tomatoes. In a separate bowl, mix tuna, garlic, cilantro, mayonnaise, brown mustard, lemon juice, hot sauce and creole seasoning (if desired), salt and pepper to taste. Mix well. Mound tuna mixture on top of salad greens. Drizzle with balsamic vinegar and serve.
Salmon is a particularly oily fish (together with mackerel, or sardines); it is high in Omega-3 fatty acids.

South Beach diet salmon recipe suggestions
Wasabi Salmon — Phase 2
These quantities are for 4 servings.
2 tablespoons low-sodium soy sauce
1 teaspoon wasabi powder
1 teaspoon minced fresh ginger
½ teaspoon sesame oil or olive oil
4 skinless salmon fillets approx 1 inch thick (6oz)
cooking spray
Combine the first 4 ingredients in a large ziplock bag; add salmon. Marinate for minimum 5 minutes. Turn bag occasionally to coat. Remove fish; reserve marinade.
While fish is marinating, heat a large non-stick skillet coated with cooking spray over medium-high heat. Add fish and cook 3 minutes. Turn fish over. Reduce heat to medium and cook 8 minutes or until done.
Salmon Patties
2 cans salmon, drained and bones removed
3 tablespoons chopped fresh parsley
1 tablespoons lemon juice
1 clove minced garlic
2 eggs, beaten
pepper to taste
Preheat oven to 350°F. Mix salmon with remaining ingredients. Form into 4 patties and place on an oiled baking pan. Bake for 20-25 minutes — no need to flip over.
Salmon Filet with Mayonnaise & Vegetables
5 oz (140g) (raw weight) salmon filet/cutlet
1 tablespoon low-fat mayonnaise
5 cherry tomatoes
1/2 cup (3 oz/85g) cooked broccoli
Place salmon under hot broiler/grill together with the tomatoes. Cook for 5 minutes on both sides, turning once.
South Beach Diet shrimp recipe suggestions
Beans and Cabbage with Shrimp Phase 1, Phase 2 & Phase 3
2 tablespoons olive oil
1 cup minced onions
2 cloves garlic, minced
2 cups chicken broth
1 bay leaf
4 cups thinly sliced cabbage
2-3 cups cooked navy beans
2 teaspoons chopped fresh thyme/sage
1 sweet italian turkey sausage — cooked and sliced into pieces
1 pound medium to large shrimp
salt, pepper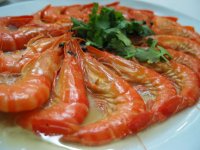 Heat the oil in a large saucepan over medium heat. Add the onions and the garlic. Cook, stirring, until the onions are soft and translucent, 5 to 8 minutes.
Stir in the chicken broth and the bay leaf. Cook, uncovered, over medium to low heat until partially reduced, about 8 minutes.
Stir in the cabbage and the beans, rinsed and drained if canned, the thyme, the sausage. Cover and cook until the cabbage is wilted and tender, for about 8 minutes. Remove the bay leaf.
Stir in the shrimp, shelled and deveined Cook until pink, 3 to 4 minutes. Add salt and black pepper to taste. Serve warm.
Bengal Shrimp Curry
These quantities are for 2 servings.
1 lb shrimp
1 tablespoon olive oil
1 tablespoon curry powder
1/2 cup onion, chopped
1 tomato, chopped
1/4 cup water
Saute onions in a little oil, sprinkle with curry powder. Stir in tomato and saute few minutes. Add shrimp, stir to coat evenly. When shrimp is done (few minutes), pour in water and stir.
Baked Shrimp in Lemony Garlic Sauce
These quantities are for 4 servings.
large shrimp, peeled and deveined
cooking spray
1/4 cup fresh lemon juice
2 tablespoons olive oil
3 garlic cloves, minced
1 teaspoon Worcestershire sauce
3/4 teaspoon lemon-pepper seasoning
1/4 teaspoon ground red pepper
2 tablespoons chopped fresh parsley
Preheat oven to 425° F. Arrange shrimp in a single layer in a 13 x 9 inch baking dish coated with cooking spray. Combine lemon juice and next 5 ingredients; pour over shrimp. Bake at 425° F for 8 to 10 minutes or until shrimp are done. Sprinkle parsley over shrimp; serve immediately.